Engineered Solutions
Frost was built on an engineering foundation with innovation always at top of mind. Our engineers have strong operational backgrounds which has positively impacted how they design products for the Meat Processing Industry.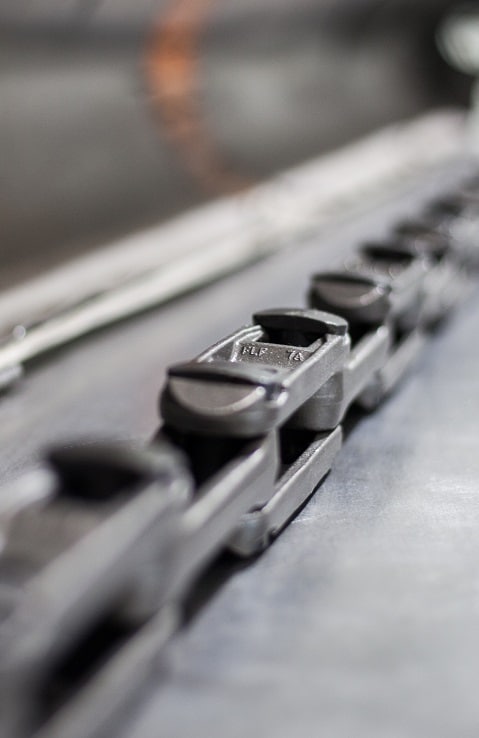 Proven Performance
Everyone likes to talk up the game of quality. At Frost, we strive to deliver quality every day by continually improving our communication patterns with customers and our operational execution in designing, making and delivering conveyor products that will endure the longest in harsh, heavy duty environments.
We don't stop thinking about your operation after our chain is installed in your production line. Our Field Engineers can implement portable or permanent Chain Wear Monitors that monitor the deterioration of your chain. This helps predict needed repairs or when to purchase a new chain to prevent costly downtime from happening.
Capabilities
The capabilities below allow us to be successful at providing high quality conveyor chain to the Poultry and Red Meat Processing industries.
Real World Experience:
Generations of experience matching conveyor products to a wide variety of customer applications.
Excellence in Design:
A strong, proven track record of design work leading to products that perform longer than the competition.
Software Utilization:
Utilization of 2D & 3D software to assist in reaching the best possible product designs for customers.
Simulation:
FEA simulation to ensure Frost products can hold up under heavy real world forces and harsh environments.
Load Testing:
Product load testing to determine how Frost components may react to specific load conditions ensuring product integrity.
Product Support:
Product application support and assistance to customers in selecting the right conveyor.
Assessments:
Assessments of wear on conveyors in the field to assist customers in preempting chain failure & downtime.
Consultative Advice:
Ability to recommend and specify the correct chain, trolley construction and seal design to ensure smooth running conveyance for customers.